Naples Plumbing Studio provides white-glove service alongside beautiful fixtures
Sometimes bargain hunting for the best deals pays off, while at other times, like during a home build or remodel, cutting corners on cost can be a bad idea.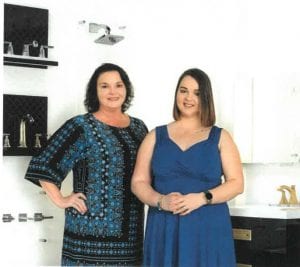 Lisa Roosevelt, founder of Naples Plumbing Studio, advises customers against comparison shopping for the lowest bid on their plumbing fixtures, despite how often it happens in the industry. Going that route doesn't off the white-glove service and extreme attention to detail that Naples Plumbing Studio provides in the female-owned and operated showroom that Roosevelt runs with her daughter.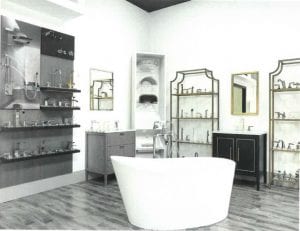 "We're a boutique showroom, and our customers know we're not the cheapest," Roosevelt says. "I didn't build a business to be the cheapest and get into bidding wars with other companies. Building out a complete plumbing specification package takes a lot of talent and effort, and we don't take other people's work and underbid it."
Each job starts with a blueprint. "We encourage our customers to bring plans or drawings to every meeting," she says emphatically, because Roosevelt doesn't like to sell fixtures without knowing the placement and dimensions of the space for each one.
"Dimensions are critical when choosing the size of the plumbing fixtures that are going in. For example, if your vanity is only 30 inches wide, you do't want to put a 20-inch sink in there," she explains.
Naples Plumbing Studio's attention to detail extends even further. Roosevelt talks at length with customers about their preferences and daily grooming habits.
"Plumbing fixtures are one of the most personal decisions in the home. It's about personal care,and it affects the way you start and end each day," she says. For example, Roosevelt says that women who only wash their hair twice a week benefit from a hand shower on a slide bar that can adjust to shoulder height, so they don't have to wear a shower cap or get their hair wet.
"We help people through the selection process – selecting plumbing fixtures that are personalized for their needs and their design," she says.
When talking to Roosevelt, it's apparent she's though of everything. "There are al types of considerations and calculations," she emphasizes.
For instance, rain shower heads are often not a good fit for a household with a tall man and a petite woman's. She explains that the rain shower head needs to be installed 12 to 18 inches above the tallest person using the shower, and the water will cool down by the time it gets to the shorter person's head.
"Rain heads are not ideal for women, in general, because they also don't provide enough water pressure for women to get all of the shampoo out of their hair in a reasonable amount of time," she explains.
Roosevelt also considers the drainage rates on shower drains and the fill rate and lumbar support in bathtubs, inviting her customers to sit in the tubs onher showroom floor to make sure it's comfortable for them.
That sort of thoughtfulness extends to the customer service Naples Plumbing Studio provides once clients have left the showroom. An accident during one installation left a beautiful $12,000 bathtub with a giant crack. Roosevelt talked with the manufacturer to get a replacement installed within record time, at no cost to the homeowner.
"Our relationships with manufacturers are invaluable; you can't put a price tag on that," she says.
Despite not being on-site, Roosevelt makes sure jobs are done correctly.
Naples Plumbing Studio's specification packages provide detailed instructions and measurements to the plumbers and other subcontractors in charge of installing the fixtures. Before opening her own business, Roosevelt worked in a plumbing showroom side by side with the plumbers on staff, so she knows how it works "behind the wall."
"We want to make sure it's executed accurately. The plumber knows the body sprays in the wall should go 41 inches and 47 inches above the floor, and the cabinet guy knows what sinks are going in," she says. "once you have plumbing
in the wall and tile up, changing it is very costly. We'd much rather address everything on the front end."
However, should any problems arise, Roosevelt is the person you want on your side.
"It's crucial that the products we carry have strong representation behind them. There is water running through these products, there could be issues at some point; it's how you handle these issues that's important," she says. "We're not 'one-and-done,' we're not order takers. We create lasting relationships and trust with our customers."