OUR MISSION IT TO PROVIDE OUR CUSTOMERS WITH THE CARE AND SERVICE THEY DESERVE
In an effort to continue to provide this service, we have gone to an appointment only basis. Please call to make an appointment."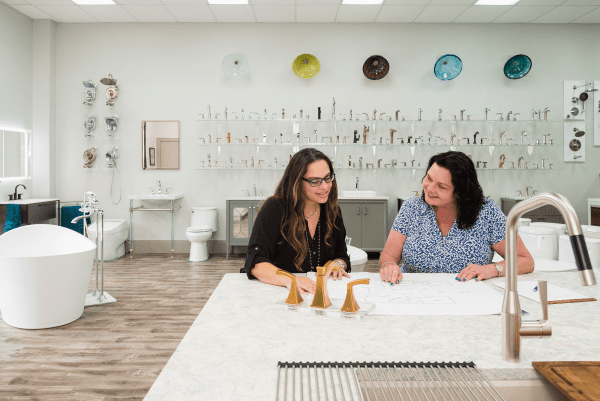 In 2014, with a decade of experience, a desire to help people, and a passion for the decorative plumbing industry, Lisa Roosevelt decided to build Naples Plumbing Studio. Lisa's daughter joined the company in 2015, followed by her brother a few years later, forming a truly family owned and operated decorative plumbing showroom in Southwest Florida.
Their mission is to provide their customers with the care and service they deserve from a family owned business and the knowledge and expertise they expect from industry professionals.
Their approach to customer service is unparalleled. "We understand that every purchase, large or small, is an investment. Our goal is to add value to that investment, while providing an educational and enjoyable experience."
Listening, guiding, educating, collaborating, and communicating are the pillars of the personalized customer service you can expect when working with Lisa and her team.
Today, Naples Plumbing Studio is the destination showroom that exemplifies the value of working with professionals dedicated to personalized customer service.
The "Lisa" Faucet
In 2013 Lisa went to Sigma Faucet & Coatings in Vista California, on her first faucet factory tour.  The group of showroom professionals was challenged to create a faucet not currently in the Sigma portfolio. Lisa selected each part, from the spout style, to the crystal handles and platinum finish. She then polished, plated and assembled each piece to create the "Lisa" faucet.  When she opened Naples Plumbing Studio in 2014, Lisa and her team sold so many "Lisa" faucets, the owners of Sigma Faucet made it a permanent part of their collection with model #'s and pricing. A testament to her passion for decorative plumbing and influence within the industry!